The Babar disco bar - Cartagena de Indias
The Babar discotheque is situated in the Santa Teresa place so beside the Naval museum in the historic center. This site is often the place where young adults go and profit of a loud clientele and less serious. Many times, people wait to enter and few tourists are attracted to this discotheque because of the ambiance style that's found there. However, people searching for high sound level pleasure will find it interesting. You can visit the Babar site right here.
How to see the Babar disco bar?
Our Cartagena city tour or a tour on a carriage allows you to see the Babar disco bar. A short video is offered to you to see this place with animation.

Your personalized visit plan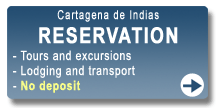 Choose your personalized visit plan for your trips and excursion to Cartagena de Indias. With this way, you'll save time and money without thinking too hard in preparation and organization for your stay.