The Donde Fidel salsa bar - Cartagena de Indias
One of the busiest place to listen to salsa music and have a beer or beverage is the Donde Fidel bar. Situated between the Carriages place and the Customs place, this place has a large exterior terrace in a corner of the wall all by listening to salsa music and dancing in the bar of the owner Fidel.

We find in the bar hundreds of pictures of the owner with really renowned personalities that came to his salsa bar. The best time to go to Donde Fidel is at night.
How to see the Donde Fidel salsa bar?
Our Cartagena city tour or as well as a tour on a carriage allows you to see the Donde Fidel salsa bar. A short video is offered to you to see this place with animation.
Your personalized visit plan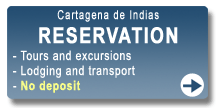 Choose your personalized visit plan for your trips and excursion to Cartagena de Indias. With this way, you'll save time and money without thinking too hard in preparation and organization for your stay.