The cholera epidemic that raged Cartagena in 1849
In the middle of the XIX century, Cartagena de Indias counted 18,000 residents and this number would have been bigger if it weren't of the cholera. The pest ravaged the city in 1849, still again a progressive decrease that was followed in the beginning of the republic period.

Certain fishermen are dead while they were at sea and this would have started the cholera epidemic once returned to the city by creating more deaths with the public market. Later, the medical diagnostic was "morbo cholera", a disease that made an apparition in America.

The pest that was laid all around the city caused massif deaths which forced the authorities to dig a hole in the large cemetery of Manga. In desperation, people fired canons to purify the infected air with the smoke of canon powder, but this simply scared off the neighbours.

The authorities took measures to help the sickest ones, whether they were rich, medium or poor. A solidarity mind was felt to battle against the epidemic and this without social discrimination.

After five weeks, the pest rapidly decreased until its disappearance, but it moved along the villages close from the Magdalena River.

According to hypothetic, the estimation of the dead population of Cartagena de Indias was a third.

Your personalized visit plan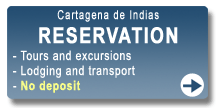 Choose the places to see in Cartagena de Indias and your entertainment outgoings to then make together your personalized visit plan.