The republic of Cartagena de Indias
During the republic period, the city of Cartagena de Indias had a lack of vision and initiative, therefore a certain lack of vitality appeared during this period concerning the organization and the control of the colonization. With its slave market that was well protected by a powerful management, then walls, fortresses and ramparts of the city have been silence in this black period. However, this time will never be a souvenir, the ashes of a suffering past, because in the XX century, the city of Cartagena got out by force when it became one of the most important places in the Caribbean for making commercial, industrial and touristic affairs to bring more value into Colombia.
The facts marking history during the republic period ?
• The cholera epidemic that raged Cartagena in 1849
• Rafael Nunez, Colombian governor from 1880 to 1894
• The rebirth of Cartagena in the XX century
Your personalized visit plan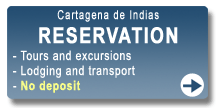 Choose the places to see in Cartagena de Indias and your entertainment outgoings to then make together your personalized visit plan.