The rebirth of Cartagena in the XX century
After the independence of 1811, Cartagena de Indias were in a declining time that would last for many years.

One of the causes of this decline was attributed during the independency by the Morillo siege, which was a catastrophe for the city and which caused many deaths. Then intern wars touched the country and prevented peace. The cholera epidemic came aggravating things to reduce the number of citizens in the city in a significant way.

Commerce was really lucrative in this region, but got a considerable decrease with the growth of the city of Barranquilla, situated on the coasts of the Magdalena River. Barranquilla became the most important economical center of the Caribbean coasts.

The abandoned fortresses of the ramparts of the city have been muted witnesses during long years and shadowed in forgets. It's during the years 1950 that the city woke up from a long nap by re-establishing the Canal del Digue in 1951. The pipeline of Mamonal – Barrancabermeja was an important phase in the economical boost with the advent of the petrochemical industry. Then Cartagena de Indias established a ground communication with the interior of the country by the western route to Medellin.

The blossoming of a new economical activity, tourism, came and enlarged the horizons of the progress of Cartagena de Indias. Its history and the richness of its wall that conserved the lost past of a dark period was considered like a "nuisance" for the development, but it's now an important and inestimable jewel.

Declared national monument in 1959 and historic and cultural patrimony of humanity by the UNESCO in 1984, Cartagena de Indias, is now an enjoyable and warm city.

Your personalized visit plan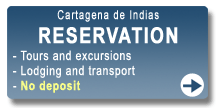 Choose the places to see in Cartagena de Indias and your entertainment outgoings to then make together your personalized visit plan.