Rafael Nunez, Colombian governor from 1880 to 1894
One of the most remarkable State chefs of Colombia in the XX century was Rafael Nunez, from Cartagena de Indias. He gave the country a political, social and economical stability. Son of Francisco Nunez Garcia and Dolorez Moledo Garcia, he was born on September 28 1825 in Cartagena de Indias.

His career was brilliant, always at the service of his compatriots, through the post of judge in Panama, the State's secretary, to the governor of Cartagena de Indias, represented the Congress, Vice president of the Congress, the secretary of the government during the period of the general Jose Maria Obando, secretary of the war and the marine with Manuel Maria Mallarino, deputy, senator, Treasure's secretary, and so on…

Participation to the Convention of Rionegro for the creation of the Constitution of 1863, who put in place the federal regime of Colombia, he wasn't in accord with this regime for the residents of the country.

The next year, he got to Liverpool to establish as a Consultant before coming back in 1875 to launch his candidature for the president of the Republic during the elections that he lost in the hands of Aquileo Parra. However, he was elected president in 1878 and started to unify the country using the famous slogan "Regeneration or catastrophe". We was re-elected after that for the years 1880 and 1884.

It's during this period that he took a total transformation of the nation in the redaction of the Constitution in 1886, which was the first motive. In spite of the wars, violence, and battles between political parties, the Colombian Constitution was realized and definitely put in place. In this same year of 1886, Nunez was re-elected for president and launched works for the economy of the Republic.

He founded the National Bank (later, the Republic Bank), all by replacing gold pieces for paper money. He got back to his house of El Cabrero, in Cartagena de Indias in 1888, and in 1893 he was re-elected for the last time as President of the Republic, but he wasn't able to finish his mandatory, because he suddenly died on September 18th 1894. Nunez has been one of the most renowned men of Cartagena.

Your personalized visit plan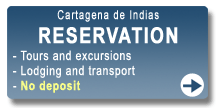 Choose the places to see in Cartagena de Indias and your entertainment outgoings to then make together your personalized visit plan.