The Cabrero retreat - Cartagena de Indias
Built in 1885, the retreat del Cabrero of the Lady of Mercedes was an initiative of Dona Sooldedad Roman in order to accomplish a religious dream. We can visit close from the Apolo park where is found the monument of Rafael Nunez and also see the house of Rafael Nunez on the other side of the street.

The statue of Rafael Nunez was erected by Eduardo Lemaitre and the artiste Francisco Cano was commissioned for its creation in 1922. And in 1994, during the first century of the death of Rafael Nunez, the Apolo park was remade. Nunez is shown while walking with the Colombian constitution manuscript of 1886 under his arm while looking at the retreat of Mercedes in the quarter El Cabrero.
How to visit the Cabrero retreat?
- City tour
Your personalized visit plan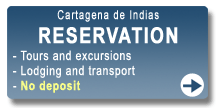 We strongly recommend you to take a personalized visit plan. Our customers really appreciate the fact of being well prepared so they have less stress during their visits, have less intermediate fees that take important commissions, not being harassed by ambulant sellers and being well knowing that we take care of them.