The house of Rafael Nunez - Cartagena de Indias
The house of Rafael Nunez was acclaimed in 1848 by the father of Dona Soledad Roman, from the fisher named Nicolas Ballesteros. About ten years later, the house was burnt down by a fire and a second construction was launched. Beside it, is found the monument of Rafael Nunez in the Apolo park as well as the Retreat del Cabrero.

The president Nunez has lived in this house during many years which is situated in the quarter El Cabrero. Declared as a national monument in 1950 and in 1978, it was restored by the National Touristic Office of Colombia. Today, we can visit it all by discovering a museum, a library given by Eduardo Lemaitre and a historical record archive.
How to visit the house of Rafael Nunez?
- City tour
Your personalized visit plan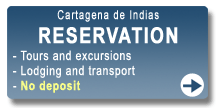 We strongly recommend you to take a personalized visit plan. Our customers really appreciate the fact of being well prepared so they have less stress during their visits, have less intermediate fees that take important commissions, not being harassed by ambulant sellers and being well knowing that we take care of them.