The Los Pegasos dock or Bodeguita - Cartagena de Indias
The quarter of Getsemani is a place that was at the colonial time a popular quarter and was separated from the center of Cartagena by the Wall. The buildings are simpler as well as the churches that are less well built. The pier of los Pegasos is situated beside the Conventions Center and Martyrs Road. The sight here is spectaculaire with a sight on the Clock Tower. On the other side of the Martyres road is the Century park and often large iguanas are in liberty.

The trips and excursions to Rosario islands leave from the platform of los Pegasos where an entry in the marina costs a couple of thousands pesos. The pier is named Bodequita and a building is observable where the pier captain works. This pier received this name because of two sculptors close to the Convention Center.
How to visit the pier of Los Pegasos or Bodeguita?
- Cartagena city tour
Your personalized visit plan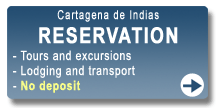 We strongly recommend you to take a personalized visit plan. Our customers really appreciate the fact of being well prepared so they have less stress during their visits, have less intermediate fees that take important commissions, not being harassed by ambulant sellers and being well knowing that we take care of them.