The Fort San Sebastian del Pastelillo - Cartagena de Indias
On Manga island, is found the Fort San Sebastian del Pastelillo which is in fact the emplacement of the famous restaurant Club de Pesca. Close there is a marina for pleasure boats. At this place, existed the Fort del Boqueron who was destroyed in 1741 by the admiral Vernon during the attacks of the city of Cartagena. With other fortresses as th Fort of San Jose and the Fort of San Fernando, it controls the maritime traffic of the bay to prevent future attacks. The Fort of San Sebastian del Pastelillo owns 31 canons and is hidden in the terrain. The name of San Sebastian comes from a Saint who was the boss of the Pastelillo conquerors which is a military term saying as like pastel, so irregular who matches or adapts with terrain.
How to visit the Fort San Sebastian del Pastelillo?
- Cartagena city tour
Your personalized visit plan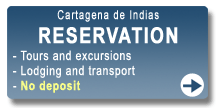 We strongly recommend you to take a personalized visit plan. Our customers really appreciate the fact of being well prepared so they have less stress during their visits, have less intermediate fees that take important commissions, not being harassed by ambulant sellers and being well knowing that we take care of them.