The complex – Cocoliso Isla Resort
Situated on the largest island of Rosario Islands at 45km of Cartagena, our complex has a 10 square km surface. Our suites are equipped of 2 beds, minibar, air conditioning, TV and can welcome 4 people.

On our site, you'll find a large pool with a bar, a magnificent beach with chairs for our guests, a bar with a superb vu on the sea, tropical gardens, relaxing places with hammocks.
---
Your personalized visit plan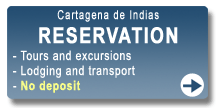 If your intention coming to Cartagena is to not rack your brain to organizing your reservations, then we strongly recommend you to see together in creating a personalized visit plan. Our customers really appreciate the fact of being well prepared so they have less stress during their visits, have less intermediate fees that take important commissions, not being harassed by ambulant sellers and being well knowing that we take care of them.