The Fernandez de Madrid park - Cartagena de Indias
The zone of San Diego in the historic center was a site where medium class people, militaries and artistes lived in the colonial time. The park Fernandez de Madrid is situated just beside the Santo Toribio church.

The streets of San Diego are a delight to go through in order to take pictures for your souvenirs. One of the good ways to visit the sector still is without contradiction with a tour in a carriage.
How to visit the Fernandez de Madrid park?
- Cartagena city tour
- Carriage center historic tour
Your personalized visit plan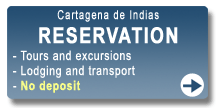 We strongly recommend you to take a personalized visit plan. Our customers really appreciate the fact of being well prepared so they have less stress during their visits, have less intermediate fees that take important commissions, not being harassed by ambulant sellers and being well knowing that we take care of them.