The Bolivar park - Cartagena de Indias
Situated in the heart of the historic center of Cartagena, the Bolivar park is full of majestic trees with surprising heights. Water fountains bring freshness to citizens and visitors to relax on rock seats. There are also terraces around the park to sit and have a drink or eat. Some checker players meet for friendly games at night, folkloric dancers execute themselves to offer people an enjoyable show.


In the middle of this vegetation stands the statue of the liberator Simon Bolivar sitting on his horse which was installed on November 11th 1896. Tours around the park, many interesting sites are present for a visit of the place. The Inquisition palace of baroque style with magnificent wood balconies can be admired as well as the history museum of Cartagena right beside the museum of gold with a colonial style. At this place you can look at the Cathedral which is the flipping point of the old city and also the Proclamation place on the other side of the street.
How to visit the Bolivar park?
- City tour
- Carriage center historic tour
Your personalized visit plan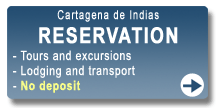 Choose your personalized visit plan for your tours and excursions to Cartagena de Indias. Like that, you'll save time and money without having trouble in organizing and planning your stay.